HENDERSON MUNICIPAL SNOW PLOW HITCHES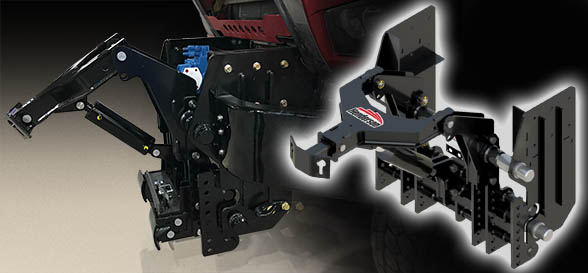 PROHITCH - THE HEIGHT ADJUSTABLE TRUCK MULTI-HITCH
Henderson's ProHitch provides the operator ultimate control over their snow plow. The new ProHitch is an adjustable, universal receiver that can be used with three common connection styles. ProHitch reciever system is available with brackets for Quick Hitch, Pin & Loop Hitch, and Pin Hitches (21", 30.5" and 33.5"). The modular design allows these hitch styles to be used interchangeably. This unique receiver/coupler system offers a single-solution for fleets operating with multiple plows.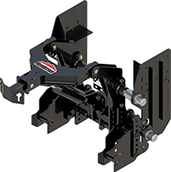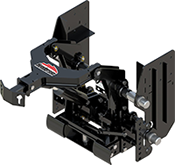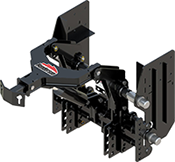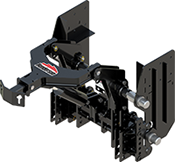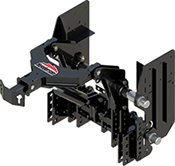 ProHitch with
Quick Hitch Brackets
ProHitch with
Pin & Loop Hitch Brackets
ProHitch with
21" Pin Hitch Brackets
ProHitch with
30.5" Pin Hitch Brackets
ProHitch with
33.5" Pin Hitch Brackets
ProHitch features:
Bolt-on installation
Open design prevents material buildup
Allows access for cleaning & inspection
Available with 3" or 4" lift cylinders
Powder coated finish
Stainless steel bushings
Designed to work with most
forward-tilt hood openings
ProHitch brackets are height adjustable in 1" increments. Keeping the plow moldboard attack angle adjusted correctly will positively provide peak performance on different road surfaces and extend the life of cutting edges. As a cutting edge wears, simply pull the pins and adjust the brackets to the desired height, then reinsert the pins. Not only will you get more miles from your cutting edges, you will remove more snow with each pass.
The ProHitch is built to last with a powder coated steel finish as well as stainless steel shafts and bushings to prevent wear and corrosion.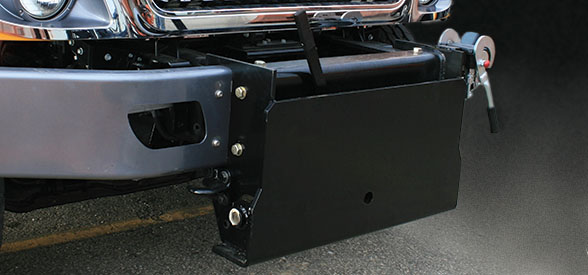 FLAT PLATE HITCH
US Patent 6,874,582
Connecting or disconnecting a snow plow has never been easier than with Henderson's Flat Plate Hitch. A one person job and no tools required! Takes only a few minutes to mount or remove a plow from this revolutionary hitch.
All components i.e.: plow lights, lift cylinder, lift arm & oscillating mechanism remain with plow portion of the hitch, leaving the front end of your chassis free of obstructions.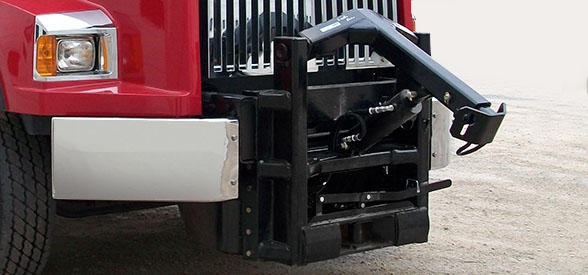 EXTREME-DUTY, LOW PROFILE PIN & LOOP STYLE HITCH
The Henderson Hercules Hitch is our premium pin & loop style hitch. It was crafted with three key features in mind; extreme duty (enclosed design) structural strength, low profile for optimum field of vision and compact for flush stowaway positioning. If you're needing the ultimate pin & loop style hitch, look no further.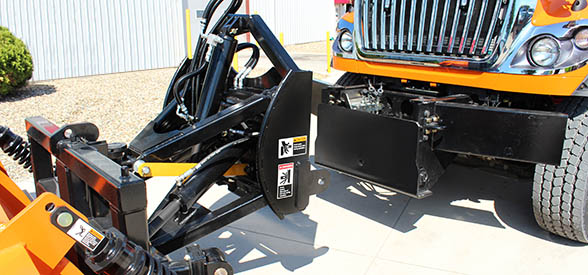 "ROAD CONTOUR FOLLOWING" STYLE HITCH
Henderson's Parallelogram Hitch for heavy-duty snow plows rolls multiple hitch features into a single hitch. Connecting and disconnecting the Parallelogram Hitch to a flat plate mounting bracket is a simple one-person process. The operator will enjoy full reversing control, built-in contour following and oscillating action, level-lift through its full range of motion, 12" vertical lift, reinforced pivot points and most importantly the ability to apply downward pressure. In the off season the entire hitch assembly stays conveniently with the plow, leaving the front end of the chassis clean and clear.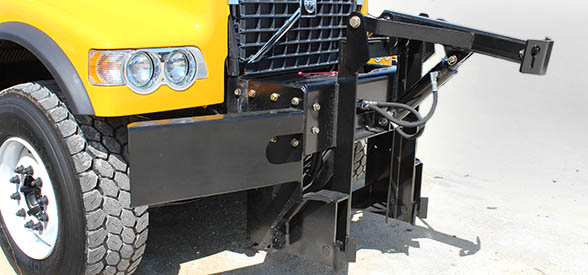 Henderson offers several different hitch configurations: tilting, non-tilting, low profile, etc... Match a Henderson hitch to your existing fleet needs or select one of your choice.
Also Henderson hitch arms can be folded down and out of the way when they are not being used, making them safer and more convenient.
For more information on the complete line of Henderson Products Snow and Ice Control Equipment, call Henderson Products at 800-359-4970.
Copyright © 2018 Henderson Products, Inc., a division of Douglas Dynamics, Inc. All Rights Reserved.