HENDERSON PRODUCTS - ABOUT US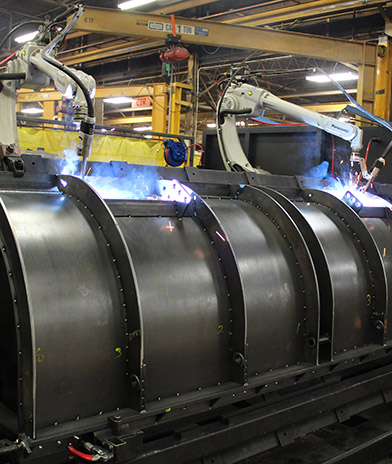 Henderson Products is the North American leader in the design, manufacture and up-fit of multi-purpose equipment for heavy-duty work trucks specializing in snow and ice control, sold through independent dealers, and direct to government agencies.
OUR MISSION
Deliver customer value through configurable products, innovative solutions and dependable service to profitably grow as the municipal snow and ice industry leader.
Our products are used by an array of customers including state departments of transportation, cities, counties, townships and other governmental agencies. As a custom manufacturer, we have the unique ability to meet nearly any application and equipment specification our customers require. With six installation and service locations, Henderson Products ensures our customers the most complete snow and ice fighting solutions and service available.
In 1946, Henderson Manufacturing was founded by Ollie Henderson in Cedar Rapids, IA to manufacture agricultural attachments and spreading equipment. Ollie moved Henderson Manufacturing to Manchester, IA in 1958. Today, our products include a wide range of innovative dump bodies, snow plows, sand & salt spreaders, anti-ice systems, pre-wetting systems and combination bodies for heavy-duty trucks, as well as state-of-the-art brine production and management equipment. All of our products are produced in our 175,000 sq. ft. facility. Unlike most manufacturers, Henderson offers many custom features and benefits in each product category that improve user convenience and safety. Henderson's commitment to customers has earned it the reputation as "The Dependable Ones".
Regional preferences are taken into account so that performance, desired features and all necessary functions are satisfied for each customer. This level of customer commitment has helped position Henderson as a preferred source and recognized complete solution supplier of snow and ice control equipment. We are proud that Henderson has the unique capability to offer integrated solutions for our customer's municipal snow and ice control work truck requirements.
Henderson is proud to be a part of Douglas Dynamics, North America's premier manufacturer of vehicle attachments and equipment and home to the most trusted brands in the industry. For more than 65 years, the Company has been innovating products that not only enable people to perform their jobs more efficiently and effectively, but also enable businesses to increase profitability. For more on investor relations, see NYSE: PLOW.
For more information on the complete line of Henderson Products Snow and Ice Control Equipment, call Henderson Products at 800-359-4970.
Copyright © 2018 Henderson Products, Inc., a division of Douglas Dynamics, Inc. All Rights Reserved.